Why You Need This Dog Car Seat Cover?
PawRoll® Multi-Function Dog Car Seat Cover features a fitted option and will help keep your car seats clean and looking brand new.
Key Benefit  
Protects your car's back seats with quilted, heavy-duty Oxford polyester that's resistant to water, spills, stains and color-bleeding.




Designed to fit most car models, and is built with multiple attachment points and adjustable straps for a secure fit, plus seat anchors to minimize shifting.

Installs in just three simple steps—loop straps around headrests, push anchors through seat gaps, and secure corner straps for added snugness (for some car models only).

Accommodates a human companion or the use of pet vehicle restraint systems with easy-access, closeable seat belt slits; features "seat belt keepers"—flaps with a snap to hold the seat belt in place when not in use.

Machine washable for easy cleanup so you can always be ready to hit the road with your pet.
Dimensions: 58" wide x 53" length
Donations
Thank you for supporting us and 1000s of Dogs who need help. With each purchase you make with us, we donate some part of our profit to Non-Profitable Dog Rescue Organizations.
Our Guarantee
We offer a 30-day guarantee on our products and our staff will be more than happy to assist you with any issues you may have. Our dedicated staff offer customer support 24 Hours a Day, 7 Days a week. 100% Customer Satisfaction Guaranteed! Please contact us if you need assistance. For more detailed information, please refer to our
Return Policy
. 
Notes:
Please don't forget to fill in the customized content in the Personality Patches box, which can make your pet unique.
Once an item has been shipped tracking will be automatically emailed to you.
PawRoll's Guarantee
If you don't have a happy experience, we will make it right for you so that you're 100% satisfied.
There's absolutely zero risk buying from the PawRoll™ Official Store. Send us an email to support@pawroll.com if you need any assistance.
PawRoll's 5-Point Happiness Checklist:
Free Worldwide Shipping

 

- Free shipping anywhere in the world on all orders. No minimum order requirement or hidden fees.
100% Safe Payments

 

- Make secure payments via PayPal® or your credit/debit card.
30 Day Money Back Guarantee

 

- If you're not satisfied with our products, we will issue you a full refund, no questions asked!


Refund Policy

24/7/365 Live Support

 

- Get instant answers to your questions with Facebook Live Chat, Email and our Support Helpdesk.


Contact Us

Track Your Order

 

- Track your order at your convenience & get order update emails.
Track Your Order
Customer Reviews
Works well, easy to clean
This dog car seat cover is for those who are afraid of animals clawing up their leather. The first thing I noticed about the product was the amount of coverage it had. I even considered using it as an alternate picnic blanket. It's super easy to install in the car with two clips that go over the back seat headrests. It even comes with two additional velcro straps if you want added flexibility in setting it up. The flaps for the side don't have anything to pin to but you can use the velcro straps to fit that need - however note that there aren't any holes to help with that. I've used this for a few days and it appears to be sturdy and durable. I have a smaller dog (poodle) and I don't think this will break any time soon. One feature I wish it had was to allow one additional personal to sit in the back without it being covered, but I guess it is a very niche thing to want. Dog (and cat) lovers can rejoice with this! Give this a shot if you want to protect that car leather.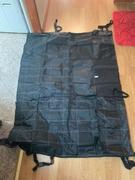 This is a really nice pet seat protector
I can't believe it took me this long to buy a car seat cover for my doggos! I was helping to pack my friend to move a few months back, and she had bought one for the 14+ hour road trip and I thought was soo cool. I had been using cheap 2$ blankets for forever, which never stay in place and eventually get holes in them from doggy nails and constant washing. This thing is an absolute game changer! It is sturdy and waterproof, so if one of my dogs throws up or has butt leakage (doggy parents know what I'm talking about ...) I can easily wipe it off and continue about our day. With blankets, I would need to hose down the blanket just so that i could put it in the wash. And the hair! Again, the hair just brushes right off with this cover whereas it would get matted and entangled in the blankets. Since it's made of plastic, there's no issue of getting smelly and funky like the blankets. I can't wait to see how it holds up in the coming months with rain and snow. My dogs didn't have a problem getting used to it, and I haven't seen any wear and tear from their nails yet (they don't do a lot of walking around or playing, so I don't foresee it being an issue). I cannot say enough good things about, and my only issues might be that 1. it isn't incredibly thick plastic so I could see how it might pose an issue of being ripped if your dog is a digger/scratcher or is very active in the back seat; and 2. due to it being plastic/vinyl there is no way to put it in the washer if need be, but maybe being able to spray it down will be good enough. Lastly; it was super easy to install - I had forgotten the instructions in the house and it took me about 5 minutes to get it all in place. I'm very pleased.