Why Your Cat Needs This Toy?

When you know that although your cat is alone at home, but there is a solid wood cat scratcher toy to accompany it to kill time, and protect its health while also protecting your furniture from being scratched, you can work with peace of mind. Until after get off work.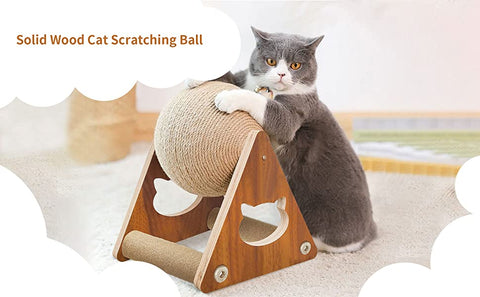 Product Detail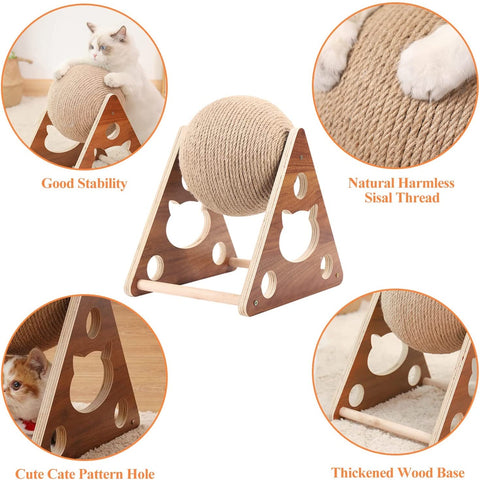 Key Benefits
Sturdy Design - This quality cat scratcher ball toy is crafted with sturdy sisal materials for a safe and healthy way for kitties to scratch while helping guard your furniture! The cat scratching toy ball has a built-in bell, which is used to attract the cat's attention and make the cat fall in love with this toy. At the same time, it is equipped with a 2 small scratching sisal toy..
Interesting Cat Toys - This kind of sisal cat scratching ball toy is different from the ordinary cat toys. The unique hollow design meets the curiosity of cats by combining with the characteristics of cats' natural love of drilling holes. The spinning sisal ball can also greatly attract the cat's attention..
Natural Sisal Cat Scratching Ball Size - The diameter of the sisal cat scratching ball is about 6.3"", the solid wood base size is 8.3"x 8.3"x 8.3", the stick length is 11"", the height is 11"" after assembly. Size is appropriate for most medium cats and kittens..
Safe & High Quality - The base of triangle frame is designed to support sisal ball, which is stable and difficult to pour, so that cats can not be hurt and safer when playing this toy. The sisal cat scratching ball is made of environment-friendly and durable materials and will not fall apart easily..
Easy Install - This cat toy equipped with a screw driver. It is very easy to install. Just connect a triangle board with a stick, put the sisal cat scratching ball on the stick at the top, then put another board on the stick, and tighten the three screws on the board..
100% Satisfied Guarantee: We are committed to providing customer high-quality products and the best shopping experiences. If you meet any issue, just send an email to us and all issues will be solved within 24 hours.
Donations
Thank you for supporting us and 1000s of Dogs who need help. With each purchase you make with us, we donate some part of our profit to Non-Profitable Dog Rescue Organizations.

Our Guarantee
We offer a 30-day guarantee on our products and our staff will be more than happy to assist you with any issues you may have. Our dedicated staff offer customer support 24 Hours a Day, 7 Days a week. 100% Customer Satisfaction Guaranteed! Please contact us if you need assistance. For more detailed information, please refer to our
Return Policy
. 
Notes:
Once an item has been shipped tracking will be automatically emailed to you.
PawRoll's Guarantee
If you don't have a happy experience, we will make it right for you so that you're 100% satisfied.
There's absolutely zero risk buying from the PawRoll™ Official Store. Send us an email to support@pawroll.com if you need any assistance.
PawRoll's 5-Point Happiness Checklist:
Free Worldwide Shipping

 

- Free shipping anywhere in the world on all orders. No minimum order requirement or hidden fees.
100% Safe Payments

 

- Make secure payments via PayPal® or your credit/debit card.
30 Day Money Back Guarantee

 

- If you're not satisfied with our products, we will issue you a full refund, no questions asked!


Refund Policy

24/7/365 Live Support

 

- Get instant answers to your questions with Facebook Live Chat, Email and our Support Helpdesk.


Contact Us

Track Your Order

 

- Track your order at your convenience & get order update emails.
Track Your Order